General News: Photo Exhibit at the Library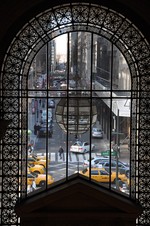 Window on the World by Rebecca Kashinski

August 28, 2017

Photo Exhibit to Feature one of the Library's Own

CORNWALL, NY – The Cornwall Public Library is pleased to feature one of its own for their next art show. Rebecca Kashinski works at the library as a library assistant and is a photographer. An opening reception will be held on Saturday, September 2nd at 1:00 PM in the library's community room.

Rebecca's love of photography started in high school when she took a photography class. Digital photography was in its infancy and everything was done with black and white film and darkroom chemical processing. She went on to earn a BFA, concentrating in photography, from Kutztown University of Pennsylvania. In 2010, Rebecca relocated to the Hudson Valley and has spent much of her time taking photos of this beautiful region. In February she was featured along with other local artists at a show in the Green Light Gallery in Cornwall-on-Hudson. Two of Rebecca's photographs are currently on display at the Storm King Tavern, as part of the Orange County Arts Council's Hudson Valley Photography Exhibit. Her photo show, "Fortuitous" will be on display at the library throughout the month of September.



Comments:
Add a Comment:
Please signup or login to add a comment.