Schools: Two Middle School Artists in the Spotlight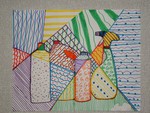 Abstract Bottles by Kim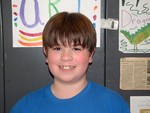 Brian Castellano
Brian's Drawing of Outer Space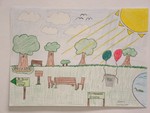 Brian's Picture of the Park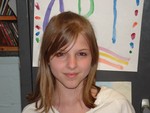 Kimberly Durma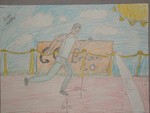 Self Portrait of Brian Running
Sneaker Sketch by Kim

June 11, 2007



By: Gina Dianis

The Cornwall Middle School is filled with many talented students. They excel in a variety of extracurricular activities outside the school day and Visual Arts is one of them. It is very exciting for me to have the opportunity to share two talented artists who have shown great interest and dedication to their art work.

* * * * * *

Brian Castellano is a 6th grader who always strives for the best when expressing himself creatively. His first memory of drawing is when he would write his name in bubble letters on a chalkboard at home. Brian enjoys drawing imaginary images and gathers his ideas from games, pictures and real life. His favorite art experience was building a three dimensional clay volcano at school during the 4th grade, and evidently won an award for it. Besides enjoying the Arts, Brian also plays baseball. When asked how he thinks the Arts impact the work today, his response is, "Art is very magical. It shows you what the world is like through your eyes."

* * * * * *

Kimberly Durma is also a 6th grader at the Cornwall Middle School. She is new this year, coming from Monticello School District, and her enthusiasm for the Arts was evident from my first class with her. As a young child, Kimberly always colored in coloring books and enjoyed drawing shapes like hearts and diamonds. Her favorite art experience was painting pumpkins for the annual contest held by the local Fire Department, which she won five years in a row.

* * * * * *

Kimberly prefers to use her observational skills and draw realistically. She does, however, like to draw imaginary creatures, such as elves. She was a member of the CCMS Art Club and also enjoys playing the electric guitar.

* * * * * *

If you were fortunate to see the Middle School Drama Production of "Joseph and the Amazing Technicolor Dreamcoat", then you saw the program cover which was designed by Kimberly. She doesn't have a favorite artist because she thinks all artists are brilliant and present their art work in a unique way. When asked how she thinks the Arts impact the work today, her response was, "All art has something unique about it that makes the world's art interesting and fun to look at".




Comments:
Add a Comment:
Please signup or login to add a comment.