General News: Museum's 2017 College Scholarship Winner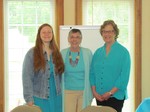 Hudson Highlands Nature Museum's College Scholarship winner Elizabeth Klosky (center) alongside Museum Board Member Beth Noonan (left), and Museum Executive Director Jackie Grant (right)

July 08, 2017

From the Hudson Highlands Nature Museum

Hudson Highlands Nature Museum Celebrates Museum's 2017 College Scholarship Winner

Cornwall, NY- The mission of the Hudson Highlands Nature Museum is to create responsible caretakers of the Environment. With this in mind, each year, the Museum grants a Scholarship to a college bound senior from Cornwall High School who demonstrates an interest in caring for the environment and a commitment to environmental engagement in college and future pursuits. This year's winner Elizabeth Klosky has demonstrated both a keen interest and commitment to the world that surrounds her. Her love for the environment began at an early age as a student in the Museum's Young Naturalist Preschool Program, and continued to grow over the years. . In addition to academic excellence, Elizabeth demonstrates leadership and passion by her extensive involvement and volunteer service with organizations such as Girl Scouts USA, Boy Scouts of America (Venturing BSA and Sea Scouting), National Parks and National Forests, 4-H, and Hudson Valley Poets. Elizabeth advocates for the environment by ongoing volunteer work on a grant and award winning international scale awareness and repopulation project to save the bees. Although not farmers by trade, her family has started a small organic farm raising poultry, beekeeping, maple sugaring, gardening and more which Elizabeth tends regularly. She is committed to sustainability and organic practices. Her goal is to become an agricultural engineer and design environmental friendly processes and equipment for farming. Elizabeth will continue her journey at Cornell University in the Fall. The Museum wishes Elizabeth the best of luck in all of her future endeavors and cannot wait to see what she accomplishes next.


Comments:
Add a Comment:
Please signup or login to add a comment.