General News: Art Show at the Library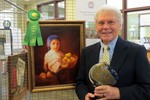 Ray Schuettich w/painting "Girls with Pears"

February 11, 2017

2/11/2017
Library to host art show with oil painter Ray Schuettich

CORNWALL, NY – Cornwall Public Library will host a display of oil painting works by artist, Ray Schuettich. His work will be on display from February 11- February 26. An opening reception will be held on Saturday, February 11 at 1:00pm in the library's community room. The show entitled, A Ray of Sunshine, will feature Schuettich's oil paintings.

A member of the Middletown Art Group for more than ten years, Ray Schuettich is a resident of Pine Bush. He studied at the Newark School of Fine and Industrial Arts in New Jersey and the School of Visual Arts in New York City. Ray worked for 30 years in the field of advertising as a commercial artist, art director and studio manager for various agencies throughout Manhattan. After retiring, he relocated to Pine Bush, where he presently resides with his wife. When Ray first began painting, he worked with traditional oils but prefers to paint with water soluble pigments. Although he enjoys the social aspects of painting in groups, Ray now prefers to paint at home.



Comments:
Add a Comment:
Please signup or login to add a comment.